Argh! Do i really have to write a biography? Well, i'll try, but i must warn you i have never wrote any biographies before, so watch out. And sorry about my english, it's not my mother language. Music is the only language which i like, because everybody understands it , except maybe deaf people. And if i'm gonna sound really boring in here, just click your way out of here. No hard feelings. :)

Well...here we go. I was born in 1973 in Helsinki, Finland (and here ain't no polarbears please). I get my first computer when i was about 11-years old in 1985 and it was a Spectravideo MSX 728 with few game cartridges. It was really a nice computer and i use to play with it a lot with my friends. I still have little collection of those old game cartridges. Pixels rules! :)

Then i had a Commodore 64, Commodore 128D and finally a Commodore Amiga 500 arrived in my home sometimes in spring of 1989 (if i remember it correctly). It was really awesome computer and with that machine i started to learn to making music and compose. My friends showed me a wonderful music making software called SoundFX (today it's not so wonderful anymore :)), but in those days it looked and sounded excellent. Basically i have learned to make music with computer (Trackers) by myself, no teachers needed. Of course i learned to play piano and recorder with teachers when i was kid, but that doesn't count (and today my skills to play those instruments are almost zero).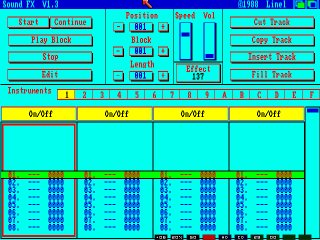 That wonderful SoundFX

It was sometime maybe May or June 1989 when i released my first song called "Midi-Mouse". What a song it is! ;) It was composed completely with that SoundFX-program and it has a incredible four channels (like most of the songs have in those days). I made about 10-20 songs with that SoundFX and after that i switched the legendary SoundTracker. Everybody who has ever composed with those programs knows, that sometimes four channels is really pain in the ass, but fortunately that's ancient history now. Shall i still continue?

Other Trackers i used before the creation of time are ProTracker, NoiseTracker, OctaMED and so on... they were really fun programs to deal with (besides that four channel limit) and i composed hundreds of songs with them (you read right, hundrdeds). When i'm in the mood for composing a new material (and maybe drink a few shots of whiskey) there's no way to stop. :) Me and my few friends started a demogroup called "Amiga-Union" in early 1990s and released few demos/intros. Unfortunately or maybe fortunately most of them are disappeared since. If someone has seen one of them, send them home quick. :) I have been in one or two demo parties before the Assembly started in 1992. They were fun parties, i tell you.

Then sometime in 1995/1996 i kinda get bored that Amiga thing and bought my first PC-computer. 486 rules! :) It was a goodbye that crappy four channel limit. My first song with PC and legendary FastTracker II was maybe not-so legendary song "Dancing With Corpses" from the album "Just Dark". It was released in 1996.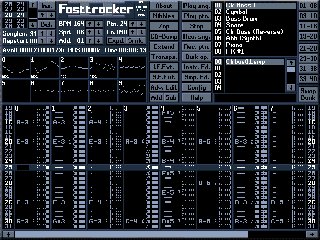 It's the legendary FastTracker II

After i released my latest (and it's still today) album before millennium called "Solar System" in 1999 i really haven't composed any new material since. Well, maybe few songs, but nothing special anyway. But in last year (2008) i don't know why, but i started to compose again with Trackers. Now first time in Windows based programs like MilkyTracker for example (Whiskeymusic likes MilkyTracker :)). Past programs were MS-DOS based. Sooooo...maybe in this year i'll release a new album or something. We'll see! :)

And remember to check the NEWS-page regularly, i will announce it there as soon as something concrete is ready to announce. Ok, if you have read this far and still keep your sanity (and haven't fall a sleep) i must thanks you for your bravery and interest. And if this isn't enough information about me (you must be kiddin'), then perhaps someday i do a FAQ with more details. Now, go to do something useful for a change. :)



Olli Markkanen
18th February 2009